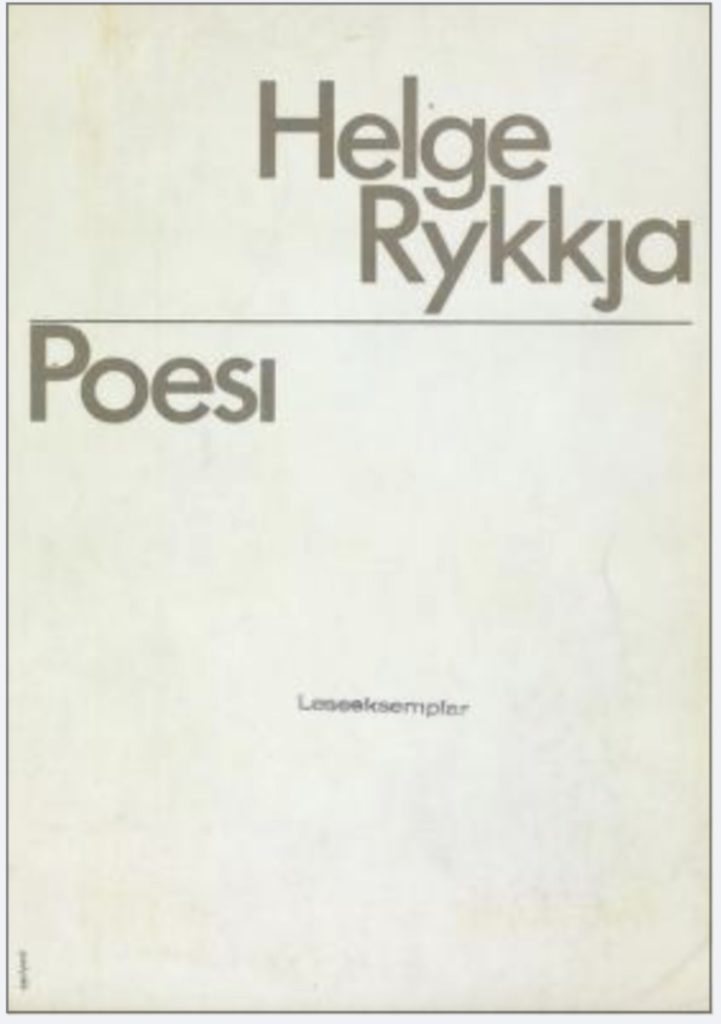 Dagrun Bennett, som bur i Franklin, Indiana, har sett om til engelsk dei følgjande dikta frå Poesi (1968). Mi bokutgjeving BOK, som eg seinare vil presentere eit utval frå på engelsk, det var mi aller første bokutgjeving (1966).
Utvalet her frå Poesi er elles henta frå Jan Erik Volds innhaldsrike antologi Poesi 14 X 14 (1971). Eg takkar han for lånet. Og eg takkar Dagrun Bennett så mykje for omsetjinga.
HR
From POETRY
I regret that I did not adequately describe heaven in my last book
I must tell you about myself. At first I did not understand the world around me, because I thought that what everyone said meant something different than what they said. Tact as refinement, discipline as piety, ignorance as humility. One could share nothing with others except a match, not freedom but restraint, not experience but recognition. Courage disappears before loyalty, loyalty disappears before helplessness, helplessness disappears before mercilessness (lack of mercy), courage is unrecognizable
A man jumped out over the land. Hey, it's blowing.  
The chute unfolds. The straps snap. From above you can see the lakes.
We have landed. Grass.
But this is not quite true. I have never jumped in a parachute.
When I looked in the mirror and saw that I had red hair and saw how tall my father was and understood that perhaps I would be tall, one thing and another, and when I heard the surname my parents had given me, I decided to be an author. It was my turn, I grabbed the opportunity.
Will it never come back? In my dream I have counted on the birdsong. There will be birds for us to enjoy.
There is nothing wrong with my ears. There is nothing wrong with my ears. There is nothing wrong with my ears. There is nothing wrong with my ears. There is nothing wrong with my ears. There is nothing wrong with my ears. There is nothing wrong with my ears. There is nothing wrong with my ears. There is nothing wrong with my ears.
Finds himself accepting 
Finds himself
Finds
Pogostick like Petter Smart
Ducklings swing living tails in the train 
chew path or willow-twigs swipe stone clay
air and toadstools roses kir a seat in par-
liament odor quarrel teat air sting grainy stone 
kitchen spring loaves walks germans cubes
But I have freedom. It is typical of me.
Anybody can be twisted
They give in
There are many animals in the world.
Met the fox and the tough wolverine
The fox said yes, the wolverine said no.
The fox said: You can do that.
The fox is right, I can do 
everything I wish to do.
In 1943 my soul became restless.
I understood that the war would end 
but God did not tell me what to do
I asked God to let me live for 80 years 
and of course I could. Looked in the atlas
found the ice on the first page and took the ice 
my soul led me towards the middle
But it was cautious
Sweden, such a beautiful country. I dream of you. 
Bjørnson was in Sweden and others, too. It is the 
deep Bay of Bothnia that is so fine, the sea of flames 
in Kiruna, sister city to Gjøvik. High mountains, 
mountains not as high as Galdhøpiggen, high enough.
Endless country roads.
The national anthem is very old.
Why do we love Sweden now?
Because it has such soft children
Swedes can't stand much, can they? They get 
smashed to pieces (beaten to a pulp). We like patience.
We love them, I think, because they are beaten.
Haparanda.
Something is wrong with Sweden.
Are the bombs in the back or in front on the 
side? Let's not be sarcastic, the bombs are where they 
are not on the side but in the middle, by the way does 
it matter? I'm in danger of being too 
direct, because we can't be sure that what is 
blind will work as intended.
She with the sexy babyface with 
the child doesn't upset me.
I think she is sexy and see it, she 
seems sexy to me.
I believe she is sexy.
The conclusion is that we don't know 
where the bombs are.
Were to meet by
the tree
but he did not come
The rain drizzled through 
the crown of the trees
while he waited
The rain did not come
People spoke nothing but poetry. People did not 
speak of inner or outer reality. Nobody spoke 
about their dogs and cats, their pets. All 
flagpoles had been cut down. The deposed kings 
did not worry about being reinstated. The planes flew 
soundlessly. Otherwise everything was joy and happiness. 
At Grorud the squares talked to each other. The smoke. 
The dragon up four corners draw here past over 
more together till now it mine will again 
over past here more
I swerved, the street was slick. Worn. The street swerves.  
The ground is round. That's the other thing.
Sentimental. Without a guidepost, of course.
Without Indians it will never work.
Humour means
not hang
on
1. pondering pair
out
It is such an effort to be Helge Rykkja 
that I can do it only once a year
There was a time
when the elms – What kind of trees are they
were dark
at the side of the road and I walked
home with them
Pulls the trigger. The chamber is emptied – the whole cylinder
is emptied.
He looks stupid
the man
with the gun.
I choose a sail, pliers and a trunk
Some place
farther ahead
we will find the dove in the grass – exactly - peace as we 
want it
The kangaroo is an animal that lives in Australia
with a pouch on its belly. Jumps

Dette er altså omsette dikt frå Poesi av Helge Rykkja – med omsetjar Dagrun Bennett.
Og her finn du også ei soge (Skam) om korleis «There is nothing wrong eith my ears» blei til, det mest kjende diktet mitt; det av ulike årsaker mest kjende diktet mitt.
Og her er ein introduksjon til Poesi med originaleksempel frå boka. Du ser også utdrag frå BOK vidare på lenka, pluss ein introduksjon til same BOK.